TESTIMONIALS FOR MISTRESS TAHLIA
September 2023
What a great session.  I had a lot of fun.  You gave me everything that I needed.
There was lots of pain and I enjoyed all of it.  The smile on your face showed that you were enjoying giving it.
Thanks for a fantastic time.  I am already looking forward to the next time.   Maybe a longer session where I can suffer some more.
October 2023
Just a line to say thanks for the wonderful session we had yesterday. I was nervous buy you put me at ease and the caning was amazing. Very hard and painful. My backside is very sore and bruised. P.s You are much more attractive than your photos show. They do not do you justice. 
September 2023
Your voice and beauty always makes me tremble Mistress. Every slave should experience your dominance.
December 2022
Dear Ms Tahlia,  The session was absolutely amazing in so many ways. You have an incredible amount of expertise & experience, also working all to apply so sensitively all the way through. Tying my toes, cock and balls quickly but accurately that it was done before I knew what was going on. I had an initial worry that just dissolved in my trust in you. The role play was wonderful. I think next time let's definitely consider marking as well. I loved being otk spanked by you! My hips were sore for a few days after being tied into that prone position. Felt delicious! This was the first time I really got to turn these role plays into reality after many years. I am very grateful and look forward to seeing you again on your next tour.
____________________________
September 2022 – Melbourne VIC
I had my first visit with Ms Tahlia recently and I can attest to her skills in administering corporal punishment in the traditional way. After my offences were established she decided we would start by my hand being held out.
Three strokes of the strap later and my hand was stinging like fury and my eyes watering. I was told to hold out my other hand. How contorted my face must have been as I struggled to keep that hand out.
Then I was over her knees getting a spanking with stinging hands now being matched with a stinging bottom.
Ms Tahlia is a very capable woman and her skill with the cane has been well honed. I recieved two lots of six and I felt every cut keenly. The first caning seperated from the next by cornertime and another spanking over her knees. By the end I certainly was a well punished miscreant who will not forget anytime soon.
But with these painful memories I have another over riding memory and that is the pleasure of meeting a charming woman named Ms Tahlia.
April 2022 – Brisbane QLD.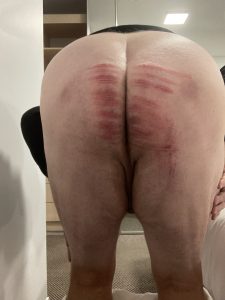 It has now been 5 days since my detention and I wanted to thank you. Everything I imagined or hoped for in a detention was present. To be humiliated slapped on my face, pulled by the ear everything that a naughty little schoolboy should suffer  occurred without passion or kindness. Your strength and dominant nature was outstanding I felt totally underwhelmed and at your mercy. To sit at the desk with my palms open thinking about my poor behaviour and the consequences that were becoming real in a hurry. The line you asked me to write was creative and difficult and obviously something I could not achieve to meet your expectations.
The corner time was very innovative and caused great stress mentally and physically. To drop that coin and get 10 strokes of the cane certainly kept me focussed. Every mistake was further cane strokes.
Your reputation as a Disciplinarian is world renowned and you lived up to such a well deserved commendation. To be placed over your knee and receive a hand spanking and the ruler was exhilarating and mind blowing. But whatever thoughts I had about being placed over your knee were immediately dispelled with new amazement at my caning.
Your are a most highly skilled professional with the cane. You administered each cane stroke with precision and perfection. With each set of cane strokes the velocity increased yet I took each cane stroke with relative comfort. The look on my face at the damage you had done to my buttocks was shock. I could not believe the vivid strokes on my buttocks.
It was an absolute privilege and honour to be in your presence Mistress. This detention will live in my memory for a very long time. I look forward to being given the privilege of being in detention again with you soon Mistress.
Thank you for agreeing to seeing me and for a wonderful session Mistress.
____________
Today I saw Mistress Tahlia for the first time (definitely not the last though) for a full toilet training (FTT) session. It was my first experience with this so I was extremely nervous going in, but as soon as the gorgeous Mistress Tahlia welcomed me in, she made me feel comfortable and I knew I was in good hands.
The session started by discussing any limits and what I wanted to try during our time together, and despite the delicate subject matter it was extremely easy to talk about it with her. I wanted to be used completely for both golden and brown showers, swallowing it all and cleaning her up afterwards, so after some last words of advice from Mistress, she sent me to the bathroom to undress and wait on my hands and knees ready to serve her while she prepared. Even the short wait like this was erotic for me, completely naked and in a subservient position – I couldn't help but contemplate how lucky I was to be there.
Even in her normal dress, Mistress Tahlia looked incredible, but once she entered, collared me and got me into position on the floor, she began revealing her body, teasing me with what was to come. As she stood over me with her high heels on, the view all the way up her legs to her amazing body, covered only by some hot little panties is easily one of the sexiest things I've seen.
She began by "christening" my cock as her own, a brief golden shower over it to claim her property. As my excitement began to build, she positioned herself over my face and her pussy began to open letting me know I was about to receive my first taste of her delicious golden shower – she instructed me to not spill a drop, but I didn't need to be told – I didn't want to waste a drop of her sweet juice. She was attentive to make sure that there was never too much in my mouth, telling me to swallow it and waiting until I was ready for my next serve. I then got the pleasure of making sure her pussy was nice and clean before we continued with the rest of my training.
Finally it was time for the brown shower. As she perched herself directly over my mouth, telling me to wait with my mouth open she told me I could start stroking myself. My arousal had been built up throughout the whole session so it felt like a huge reward as she let her first drop fall into my mouth. The idea of something so forbidden and intimate made the whole experience incredibly hot, and after she'd made sure I swallowed the first one and began serving up her next course, I knew I was close so I begged her for permission to come. This happened just as she was emptying into my mouth again with excellent timing, everything climaxing at that moment leaving me completely satisfied, the taste of her lingering in my mouth as she made me clean my come off of my fingers.
Afterwards we sat and talked for a while. Mistress Tahlia has a great personality and I found the aftercare almost as much fun as the actual session. If you've ever fantasised about being used as a toilet, I don't think you could find a more perfect woman to serve – do yourself a favour and make a booking!
January 2020
_____________________________________
Hi Tahlia,
Good morning! This is just a note of thanks for the really fantastic session yesterday. To be spanked soundly and helplessly over the knees of a tall and leggy no-nonsense lady has always been my fantasy, and you have turned it into reality for me. Needless to say, the session could not have been so perfect without the cane. It was amazing that every single stroke could have been so hard and stinging yet without breaking the skin. In her email recommendation, Amanda wrote: "I am sure you would like Mistress Tahlia, she is very experienced, very attractive and certainly tall and leggy". I totally agree with it. Thanks again.
November 2019
strict Corporal punishment, school boy fantasy
_________________________________
Dear Mistress Tahlia,
I would like to thank you for an awesome session yesterday. I appreciate the fact that you incorporate every bdsm activity that I requested. The standout for me was anal play and foot worship. I enjoyed the experience of being your punching bag as well. I have to admit that physically, you are the strongest Mistress I have ever met. I would definitely like to serve you again, if given the opportunity. In the end, thanks for such an amazing and wonderful experience.
Regards
Slave ****
(March 2019)
_________________________________
More Testimonials
Hi Tahlia
I can only be open and honest with you and will conceal nothing. I left last session thinking thank you Tahlia you have done me a service I will never come back for another session I found it so unsettling appalling and degrading I just can't do that anymore. I have had it with bdsm. But here I am two weeks later and all I can think about is you and the degrading humiliating things you make me do. The thought of drinking my own shit or shitting in a nappy shocks and is appalling and I don't want to do it. Or do I?
(Feb 2018)
_________________________________
I just wanted to thank you for the amazing session we had yesterday. You were completely immersed in your role and did a fabulous job with it. I could not ask for a better experience. I am sure you will have no inhibitions in challenging me in a winner takes all match as we both know who will be the winner and how the winner will use the other person ?
(May 2017)
_________________________________
A good Mistress maintains the psychological edge as well as the physical. She has wolf eyes which penetrate through me. She understands that the slave's mental submission is crucial to successful dominance. Intelligent, sadistic and creative. Thank you Mistress for changing this mere mortal into a devoted and loving slave.
Slave *******
(Jan 2017)
_________________________________
Hi Tahlia, I just wanted to let you know that I really enjoyed our wrestling session and am so much looking forward to our next one. Your beautiful outfits hugged your sexy body and kept me excited the whole time. It would be a great honour and privillege to be photographed and used as a prop on your website if you so desire. I hope you had as much fun as i did and am looking forward to our next encounter as I'm hoping you are too. Will look forward to hearing from you soon and being humiliated in front of an entourage of ladies if that pleases.
Slave Andrew
(March 2016)
_________________________________
Dear Mistress,
I had the pleasure of serving you in October 2012 and just wanted to say that since returning home to the USA I have thought of you constantly and with great admiration. We did an extended role play session where you kept me on the edge of orgasm the whole time. You really made me feel like a toy and that I was just part of your game. I have never experienced such a genuine feeling of submission before and I am planning a trip back to Australia this year especially to see you again in your new establishment. Good luck with your new found freedom and please accept me as one of your eternally devoted followers.
Slave Bart
(January 2013)
_________________________________
Even More Testimonials…
Hello Mistress Tahlia,
Thank you so much for the booking on Thursday night.
It is always great see you and enjoy your professionalism and charisma.
I can't tell you how much I appreciate you getting so much into role and running the session so well.
Yesterday night stands out as the best session I have ever had. I had to send you this testimonial.
I would love to catch up again next time I am in Sydney.
Respectfully, clare
(August 2011)
_________________________________
Thank you for the wonderful wrestling session .Your agility, technical skills and your submission technique made for a pleasurable and memorable experience. I look forward to our next grappling session.
(June 2013)
_________________________________
Hi Hetakrantz, hope You are well.Once again I had a wonderfull time with You,Your professionalism and attention to detail has made my fantasy become a reality.What I am looking for in a wrestling partner has been forfilled by Your enthusiasm and ability to take control yet also being able to adept to any situation.I am also greatful that im able to be one of Your models which adds to the fantasy.Am so much looking forward to our next meeting and if You would like to use me as a prop in any of Your future promos please let me know. Kind regards, M*******. xx
(June 2013)
_________________________________
I saw Mistress Tahlia recently and it was amazing. It's not just her great body, she's really good at the fantasy element — going with the 'story' and improvising new and kinky things. I was a bit nervous when we started but not for long!
(April 2013)
_________________________________
Dear Mistress Tahlia,
Thanks so much for our recent wrestling session. I was quite nervous so was grateful for your friendly manner. You are in great shape and are a formidable opponent. I hope to meet again soon.
regards R**
(June 2013)
_________________________________
I've seen Mistress Tahlia many times…over many years. She is intriguing, she is addictive, she is highly intuitive and she exudes sexuality. She can be caring and empathetic…but she can also be tough…very tough. Mistress Tahlia gets inside your mind…she knows exactly what is best for you…and she is always right. Mistress Tahlia is every sort of Mistress a slave could wish for.
(Jan 2013)
_________________________________